A contagious movement is exploding within Best Buy, and a movement it is. It includes 20,000 people within the company, is catching on with female customers and spreading to women around the world. This movement is called WOLF, and it all started four years ago with one woman's dream and a haunting voice, "If not me, then who?"
That woman is Julie Gilbert, and she wants to create a future where there will be articles written about Best Buy that are not about it as a consumer electronics company, but as one of the strongest, fastest organic growth engines in the world, fueled by the ideas that come directly from female employees and customers.
Her conviction is that women need to be heard, inspired and trained for leadership positions. In her view, the only way to change culture and move a company is from the bottom up, not the top down.
So, Julie started this movement both inside and outside of Best Buy to hear the voices of women and drive business growth as a result. The immediate impact on Best Buy's business is evident in its $2 billion of market-share growth from female shoppers between 2005 and 2007.
I recently spent the better half of a day shadowing Julie and meeting with other Best Buy executives. The experience left me energized, passionate, and ready to help her change the world.
SOMETHING ABOUT JULIE
The day I met with her, Julie was wearing a beautiful black dress with white stitching and a pair of her trademark funky shoes. She never wears a suit. I have a hunch why that is (why follow the dress code created by men?), but in any case it reinforces that she takes her own path. In fact, her motto is that great quote from Ralph Waldo Emerson: "Do not go where the path may lead. Go instead where there is no path, and leave a trail."
Julie's idea to develop women as leaders occurred to her after a pair of back-to-back conversations during a store tour in 2004.
In the first conversation, a store employee told Julie that she got so many hugs from female store employees on her visits because they viewed her as a role model. Later in the day, a male executive confided to Julie that while she was respected at Best Buy, other female executives actually hated her because of her success.
The contrast between the two conversations startled Julie. That night, she reflected on her childhood in a tiny town in South Dakota, when she used to climb a tree at night and listen to the wolves howl to each other. Her epiphany was that while those howls were a support network of sorts, they were also voices that no one else heard. Just like women's voices at Best Buy.
After all, Best Buy was a company that thought its primary customers were men. But Julie knew otherwise, that women significantly influence 89 percent of all consumer electronics purchases. In fact, women now buy more in the way of consumer electronics than men!
With that, Julie sat down at her computer and mapped out her vision for WOLF, a "Women's
Leadership Forum," with the goal of reinventing Best Buy as both a great place for women to work and to shop. The next morning, she called 23 female employees in California and invited them to the first "WOLF Pack" meeting in Santa Monica, California.
Over the coming year she established and grew more WOLF Packs around the country while continuing with her official responsibilities to lead Best Buy's Magnolia Home Theatre stores. It was about empowering women and changing the culture from the bottom up. She didn't ask anyone's permission, she just did it. As the saying goes, "Well behaved women rarely make history."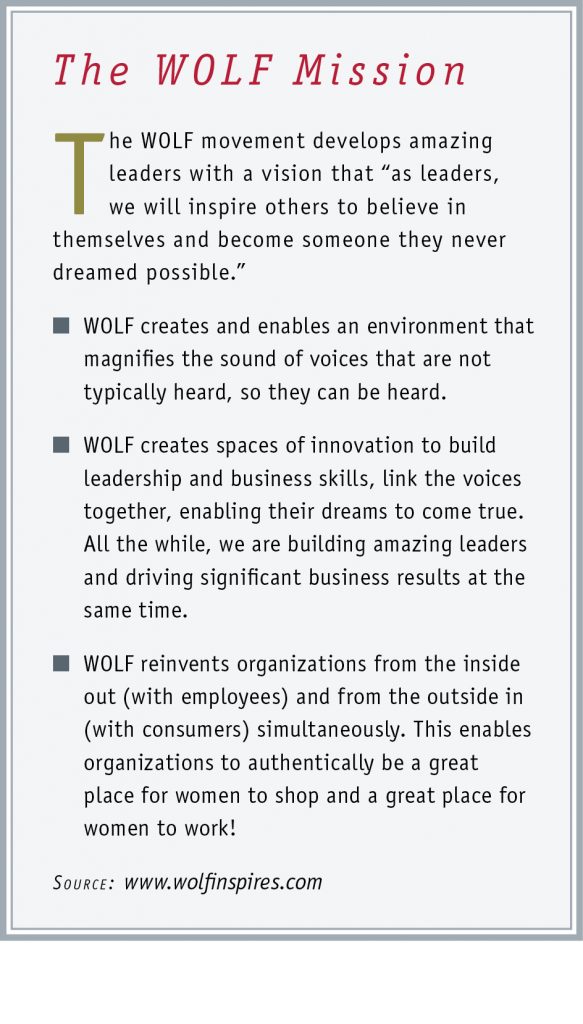 HEARING WOMEN'S VOICES
Julie took on the challenge to turn a 40-year-old company that was male-dominated into a venture capitalist that invests in ideas that come directly from female employees and customers. Julie continued to grow her "WOLF Packs," each designed to tap into both employee and customer passions, give voice to the voiceless and make dreams come true.
Each WOLF Pack is based on three pillars:
1) A commitment to each other and to innovate
2) Networking to create a solid foundation for career development
3) Giving back to others who need your help.
Ultimately, it's about learning how to take skills, apply them to an idea you're passionate about and build that idea out to impact the business — and on the journey build skills you never had.
As the WOLF initiative continued, word-of-mouth spread throughout the company. Other women wanted to be a part of it, executives wanted to get a closer look, men wanted to know how they could get involved.
Julie created a structure that made the program scalable and sustainable. Curriculum was developed so packs could run independently, process was set up for cross training, and wikis were created for passing along business results, processes and learning.
Not only are Best Buy employees clamoring to be a part of a WOLF Pack, outside women business professionals are, as well. A little over a year ago, the concept expanded to invite female customers to join the family and become "WOLF Omegas." The goal is to innovate for business results while building a network and leadership skills.
Just like an internal WOLF, female customers must apply to be accepted, and then donate extensive hours and talent to a self-selected innovation project. These WOLF Omega teams are growing rapidly in nine cities, and now involve more than 3,000 women. The most interesting thing is — there's a waiting list to join!
A STRATEGIC GROWTH DRIVER
At first, Julie met considerable resistance. Even though she took pains to make clear that WOLF was tied directly to business results, her efforts sometimes were viewed with suspicion. Initially, WOLF was often seen as an employee group for women, not as a strategic driver of business growth.
When women would get up to go to a WOLF meeting, others would say, "Why are you going to that meeting? Are you not happy?" WOLF carried such a stigma that it got to the point where women actually would not say where they were going and would use the stairwell to get to the meeting so others wouldn't know where they were.
Fortunately, everyone now realizes that WOLF is about mobilizing voices to have an impact on business growth. Julie helped ensure the business focus by demonstrating how Best Buy could win with men by winning with women.
She pointed out the high levels of returns and exchanges on items purchased by men alone, versus items purchased by couples. She took mystery-shopping trips while her male counterparts discreetly watched her unacceptable experiences. Of course, nothing was as persuasive as the business results themselves.
In addition to Best Buy's market share growth, WOLF has also made a big difference against its other goals of recruitment (an 8.5 percent increase in female applicants companywide) and retention (a 6.6 percent reduction in the turnover of female employees companywide).
Just as impressive is WOLF's influence on Best Buy Mobile's standalone stores in shopping malls, of which there are currently 17, with 30 more opening by year-end. I spoke with Shawn Score, president of Best Buy Mobile, who was preparing for workshops the following day with WOLF Packs and Omega Packs to get feedback on his marketing strategies, hear what products he should carry and how he could improve the customer interaction.
The results of such input are clear. Shawn says that two-thirds of shoppers at Best Buy Mobile stores are "opportunity customers," meaning they have never shopped at a Best Buy or haven't shopped at Best Buy for the last two years.
Of those two-thirds, 75 percent are women. Shawn believes this is because Best Buy has created a store where women want to shop, in part by presenting products within the context of integrated "lifestyle solutions" as opposed to just "features and benefits."
Another benefit is that, because WOLF teams are local, the odds are that each Best Buy store will begin to feel more tuned-in at the local level. Over time, Best Buy should look less like a corporate conglomerate and more like a local, neighborhood store.
I also spoke with Brad Weinrich, the general manager of Best Buy's Mall of America store, which was also developed using WOLF input. Brad has totally bought into the idea that his store's success is all about women and wanted women to design, hire, staff and train the store.
As he put it: "You can talk about improving the retail experience for women all you want, but until you have stores staffed with employees who are women, you're just guessing." Fifty percent of his store managers are female, as is 52 percent of his staff, overall. The challenge for Brad is that 80 percent of job applicants are men. Most people don't yet know that Best Buy is now also a great place for women to work.
Best Buy corporate also boasts an impressive list of WOLF wins, from its new Studio D store format, (see: "Best in Class," The Hub, Mar/Apr 2008) to an online gift registry to the development of a trend and fashion group, to a new website coming soon.
What Julie has affirmed time and time again, is: 1) Don't underestimate passion-driven people;
2) Don't underestimate the voice that wasn't at the table; and 3) Don't underestimate what happens when leadership skills are learned!
Julie is the senior vice-president of retail training and leadership development at Best Buy, but it isn't her title that matters.
What matters is that she is forging new ground, getting results and leaving a trail. She personifies her own vision in so many ways, although the reality is she's created something much bigger than herself. If she were to disappear tomorrow, WOLF would no doubt continue to howl.
She sees it as her moral obligation to women, wherever they may be, to help enable them, get them connected to a network and give them skills so they can become financially independent. Her biggest challenge is how to move faster with that work.
WHY WOLF WORKS
WOLF is a case study in what can happen when leadership has a compelling vision and then they get out of the way. As Shawn Score told me, "I think the biggest loss of control is when you take all the control yourself."
Best Buy's management team saw the passion that women could have and the business result that can come out of that. Once this was evident, the company's leadership saw its role to support these women and pull out the checkbook and provide funding as needed.
Best Buy has indeed invested heavily in WOLF. Currently, Best Buy supports 50 WOLF Packs across the U.S., which meet for four hours, once every month. Not only are the "wolves" leaving their desks, but in many cases they are also getting on airplanes and staying at hotels to participate.
This is now also beginning to happen on a global scale, as well, given Best Buy's plans to expand its footprint internationally.
Another reason it works is because WOLF unleashes the passion in individuals. It encourages each woman to find herself and develop who she is. Women are being listened to, engaged, and the company is actually implementing their ideas and measuring the results.
They have a very tangible measurement of something they contributed to the company.
Just as important, WOLF is fun! WOLF Pack members celebrate wins, they inspire each other and even dance together. This is about joy and people, not just business. And it's about giving back. You get and you give. That's big.
BEYOND CAUSE MARKETING
With WOLF, Best Buy is not just transforming its company they are demonstrating how a successful business of today — and the future — works.
WOLF is not about an ad hoc "marketing to women" initiative, an advertising campaign or a new product. It's about putting women at the very nucleus of the company, creating a deep soul connection, a felt understanding, and inspiring them to be a part of their cause while innovating and growing the company.
What Best Buy is doing takes the concept of "corporate social responsibility" (CSR) to a higher level. Most people see CSR as "cause marketing" but it's really much more than that. It's about engaging the consumer and championing personal issues in society.
Best Buy is changing the world by changing her world, one person at a time. When business and consumers are working on common ground for a common purpose there's emotional energy in the relationship. It's no longer just a transaction. All of us become part of the brand.
Best Buy can count me in. In fact, I've already become an Omega Wolf in the Minneapolis area.
How about you?
Wah-WAH-HOOOOOOO!
© 2008 WomanWise LLC.
Deep Soul Connection is a trademark of WomanWise LLC.