Like many other marketers, The Schwan Food Company summarized the women who bought their products as a set of statistics: Ages 35-54, with one or more children between the ages of 12 and 17.
It was only after we conducted a deep dig into the emotional truth that Schwan's realized that if creating brand enthusiasm among women were their goal, then they needed to reach their consumers on a far deeper, more subconscious level.
Schwan's was also persuaded that getting at the subconscious drivers of consumer behavior required a whole new approach that transcended the traditional sphere of sales data and focus groups. A more strategic approach — one that divines consumer behavior and infuses it with intuition and imagination — was required.
For Schwan's, the stakes were high. Its Pagoda brand of frozen Asian appetizers and entrees was not performing well enough in grocery stores. It's not that the product wasn't good — in fact, you might say it was almost too good. Pagoda actually was considered too authentic and, because of that, intimidating to consumers who were looking for more "mainstream" snacks.
The opportunity was to re-position the brand as a new generation of contemporary, Asian-inspired snacks with broader appeal. The upside potential for Schwan's was huge: Asian food is a $21-billion industry, and yet less than three percent of that comes from frozen Asian-food sales.
Schwan's decided to re-brand the line as "Asian Sensations" and re-energize it by combining familiar Asian and American forms and flavors, such as Southwest Chicken Egg Rolls and Thai Chicken Mini Crisps. By creating a more approachable brand, Schwan's felt it had a better chance to resonate with today's consumers and better fit within the growing mainstream of the frozen snacks and appetizers category.
The real question, however, was: Resonate how? If the re-launch were to communicate Schwan's new brand based purely on the usual array of internal data, it was sure to fall short. So, instead of falling back on the tried-and-true, Schwan's boldly made a decision to go for the emotional truth. The decision was made to pursue a new approach to consumer understanding that was every bit as innovative as the new products it would promote.
Arriving at that understanding was at the very heart of a seven-step process designed to create the kind of brand enthusiasm that was so critical to the success not only of Asian Sensations, but also drives brands like Apple, Target, Nike and Starbucks.
1. THE BUSINESS AUDIT. We started with a total immersion in, and assessment of, all of the information Schwan's had available on the brand. This entailed a fundamental business analysis of what was growing and what was not growing, the competitive set, the category, and the brand itself.
That required a review of both primary and secondary research as well as "stakeholder" interviews with the marketing team, executive team and key sales managers out in the field. The point was to get at the key issues that had prevented the brand's success, and to identify brand opportunities as well as information gaps.
Most important, this business audit was conducted from within a marketing-to-women context — as ultimately it would mostly be women who would be purchasing Asian Sensations. Schwan's had plenty of demographics data, but that didn't tell us enough about who "she" was. For that, we needed to transcend traditional research.
2. THE DEEP DIG. The goal of the deep dig was to get at the subconscious emotional drivers that motivate a purchase. Existing data was very clear with respect to the rational drivers. However, "convenience," for example, is not an emotional benefit; the real challenge was to get at the underlying emotional benefits.
A deep dig can involve any number of activities, including ethnography, shop-alongs, discussion groups, money games, workshops and in-home sampling, for example. Multiple activities are required because it is highly unlikely that any single activity, by itself, will reveal an "aha" moment. It is more a matter of picking up bits and pieces from each activity, and fitting them together in a puzzle to yield a peak insight that reveals a brand's emotional truth.
The deep dig for Asian Sensations centered on ethnography and discussion groups where women were not only encouraged to talk about what they feel, but also engage in exercises that got at their subconscious values and the fundamental motivators of their behavior. This approach highlights the often-dramatic gap between what consumers say, and how they actually behave.
Articulate Moms. We started the deep dig with in-home sampling, where we provided about 20 households with samples of the new product line and asked them to keep a journal about their usage of it. Importantly, we chose those households not only based on demographics, but also by identifying what we call articulate moms — that is, moms who are both in the correct demographic cohort and who are creative, intellectually curious and likely to be able to express their opinions fully.
Our articulate moms were told that the product they might know as Pagoda was going to be re-launched as Asian Sensations. We mainly wanted them to keep a diary of the "who, what, when, where, why and how" of the occasions when they decided to give Asian Sensations a try.
The sampling, by itself, could not provide a full picture, but it quickly surfaced a nugget that ultimately would lead to a key insight. The assumption going in was that "moms" were the sole target for Asian Sensations; after all they were primarily who would be making the purchasing decision in the store.
However, our articulate moms quickly zeroed in on the outsized influence of their teenage children in making that decision: They told us that they would want products like Asian Sensations in their homes so that their kids and their friends would want to hang out there. They didn't see Asian Sensations as just another snack, but as potentially a social opportunity for — and with — their kids.
Teen Talks. As we heard our moms talk about that, we decided to dig deeper with teens, as well. We invited teens — both girls and boys — to get together at various Asian restaurants (such as P.F. Chang's), in part so we could better understand their thoughts and feelings as it related to a product like Asian Sensations. More importantly, we wanted to get a read on their relationships with their parents, and where Asian Sensation fit within that context.
We also went into their homes to observe, interact, and get a sense of their living space, again to explore what began to emerge as a very interesting relationship between these "Gen Y" teens and their "Baby Boomer" parents. We began to see a somewhat startling — and certainly striking — similarity of outlook and interests between these two generations.
What surprised us was that most teens thought their parents were pretty cool. When we asked them to list what they didn't like about their parents, they really didn't have a lot to say (other than that they don't like it when mom and dad try to use hip words like "dank").
When you think about the parent-teen relationship as Baby Boomers knew it, it was all about rebellion and even animosity. Not so with Gen Y and their parents. Gen Y teens told us that they like how much their parents care about them, how well their parents listen, and how much they ask for their opinions. They told us that they liked that their parents let them be themselves and were open-minded. It was all very positive. These teens are not rebelling; they are connected. This parent-teen relationship can be almost a friendship; for the most part, there is mutual respect in the relationship.
Girlfriend Groups. The teen/mom relationship was further explored, and confirmed, by a series of girlfriend groups insight discussions. These are informal get-togethers between groups of six to eight women, all of whom know each other. Sometimes, one of the women hosts the get-together, but if not, we have a special space within our offices that's built out just like an at-home living room. It creates the perfect environment for relaxed and casual conversation.
We usually serve wine and appetizers, and in this case, of course we served Asian Sensations. Typically, we'll start out in the kitchen, and as most friends do, the women chat about everything from how their kids are doing in sports to that new store that opened at the local mall. In other words, the ambiance is nothing like that of a traditional focus group, where women often feel like they're under a microscope and can be too self-conscious, or even intimidated, to say what they really think.
While getting women to open up and talk and begin to share information is a great first step, it is not enough. Because our goal is to uncover the subconscious drivers of their purchasing decisions, we quickly moved away from conversation and toward activities that promised to tell a larger story.
With Asian Sensations, we had already started collecting tips of information about the unusual connection — the common values, beliefs, and attitudes — that moms were sharing with their teenagers. To get a deeper understanding, we gave them magazines and asked them to create visioning collages that represented the connection they had with their kids. The patterns emerged with clarity.
Almost everyone had a commonality around their kids with music, and, as it turned out it was a two-way street: They liked their kids' music, and their kids liked their music. Sports were another key area of common interest, as were vacations. Maybe none of that was surprising, but as we thought about it, one overarching "shared value" emerged.
3. THE EMOTIONAL TRUTH. The emotional truth for Asian Sensations was found to be "youthful self-expression." The Baby Boomer parents of Gen Y children want to be young — and stay young — through strong relationships with their teens.
This outlook influences both their behavior and their decisions in all aspects of their lives; it led directly to a marketing strategy premised on speaking to the common ground, or overlapping sensibilities, of these two generations.
While "youthful self-expression" is a value that clearly is shared by Baby Boomers and their Gen Y children, it is not at all common to the post-WW II generation that came before the Boomers. Nor does it apply to the Gen X generation that came between the Boomers and Gen Y, as documented by Yankelovich (see figure 2).
The insight was that Asian Sensations should not target the demographic profile of women, 35-54, but rather the emotional truth within the common mindset of today's Baby Boomers and Gen Y Teens, who share many of the same attitudes, values and beliefs.
This plays out in spades across a range of product categories. Think about it: Boomers wore hip-huggers; now teens call them low-rise. Boomers had platform shoes; teens wear chunks. Boomers had Mopeds; their kids want Vespas. Boomers listened to the Walkman; now both generations have iPods. Both Boomers and Gen Yers drink Starbucks, shop at the Gap, listen to Green Day and The Beatles, and eat at P.F. Chang's.
In short, these two generations are closer and more tightly connected than any in history. So, we tapped the emotional insights in their shared youthful mindset with a contemporary, brand personality and a holistic, in-market strategy for Asian Sensations.
We summarized all of that into a positioning statement: "For adventurous teens and moms, Asian Sensations is an irresistible experience that brings excitement to everyday life because of its unique, surprising and distinctive fusion of flavors." What's important is the personality — contemporary, cool, adventurous, unexpected, fun and spirited. We chose those adjectives very carefully!
4. BRAND VISIONING. Based on our insight — "youthful self-expression" being the emotional truth for Asian Sensations — we began to build a brand platform.
We saw many potential business extensions. For instance, it opened the door to ethnic flavors — Caribbean, Indian and French, for example. The notion of "youthful self-expression" also suggests everyday flavors like peanut-butter and jelly eggrolls, mac 'n' cheese, or chocolate. There could be breakfast eggrolls, dessert spring rolls, and more.
"Youthful self-expression" also introduced possibilities for non-traditional distribution channels. Asian Sensations could be on high-school menus and college campuses. It could be at stadiums and arenas, at movie theaters and concession stands at beaches, parks, and beyond. It could be partnered in strategic alliances with other cool brands, such as iTunes, for instance.
This insight and this platform led directly to big, entrepreneurial ideas that could lead Asian Sensations into new marketplaces.
5. BRAND-BEHAVIOR INTEGRATION. Every dollar spent in marketing should drive the brand and drive consumer behavior. If you're doing a television commercial, it isn't just about the imagery; it's about whether it's going to drive behavior.
Whether we were talking to women, the sales force or retailers, it had to come from the heart of the emotional truth connection. The result was a full, go-to-market plan, including account-specific programs, media choices, and the total communications platform, carefully constructed so that the brand plan was fully integrated with consumer behavior, to ensure a positive return on the marketing investment.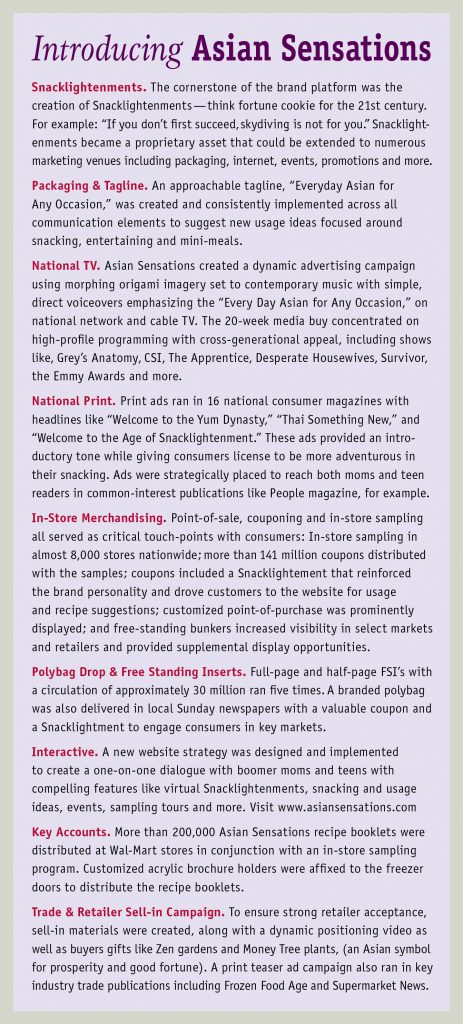 6. BRAND ENTHUSIASM. This is the creative execution phase, when we really got down to creating brand enthusiasm. Our goal was to break through with a snack brand with multi generational appeal.
Our communication strategy embraced the "common ground" approach across the complete brand platform with a contemporary, savvy, brand personality and an aggressive, integrated, brand re-launch campaign (see sidebar).
Beyond the launch campaign, which was hugely successful, the new brand platform for Asian Sensations presents myriad possibilities for creative marketing communications.
For example, the cross-generational strategy lends itself to guerilla marketing approaches, such as an experiential mobile tour that could roll through common ground venues like sports events, concerts and malls — places frequented by both moms and teens.
You might have brand ambassadors tooling around in cool vehicles wrapped in campaign graphics, or create special kiosks where Asian Sensations could be sold at amusement parks or other high-traffic venues.
7. R.O.I. ANALYSIS. Ultimately, success must be measured by bottom-line sales: Did it work or not? For Asian Sensations, the strategy to market to the common mindset of boomer moms and teens not only repositioned the brand with both users, but also secured year-one sales that surpassed all expectations.
• Five-fold increase in brand awareness
• 13% increase in dollar sales
• 20% increase in household penetration; 15% increase in buy rate
• Nearly double retail distribution (+86%) with almost 50% ACV compliance in relocating Asian Sensations from the "ethnic" aisle to the "mainstream" snack section
As the Asian Sensations experience proves, gaining a competitive advantage in the women's market requires nothing less than re-framing, re-thinking and re-imagining your entire business enterprise.
Realizing the full potential of the women's market requires creating entrepreneurial ideas that spark her emotions, elicit her involvement and make her feel as though she and our brands are connected through a higher purpose…a purpose larger than a sterile financial transaction. For Asian Sensations, that purpose manifested itself within the very relationship moms have with their teenage children, and finding common ground in "youthful self-expression." Getting at that emotional truth raised the brand to a new level of competitive advantage, above the shifting sands of price and product competition by igniting brand enthusiasm.
© 2006 WomanWise LLC.
Emotional Truth, Brand Enthusiasm, PeakInsight, Deep Dig, Articulate Moms, Girlfriend Groups, Visioning Collages and Marketing Brands to Women are trademarks of WomanWise LLC.