If I told you that Oprah Winfrey personified the future of marketing you might roll your eyes.
You might remind me that when Oprah gave away all those cars on her show it did just about nothing to sell cars. Or that her credibility took a hit when she endorsed that book, which turned out to be a fraud. Or that her act has been around so long that it's more about the past than it is about the future.
But I would tell you that Oprah Winfrey occupies an emotional space that has nothing to do with promotional giveaways. That her credibility is all about owning up to her mistakes. That what Oprah stands for is indeed about the past, but it's also about the present and the future.
I would tell you that what Oprah Winfrey stands for — her brand — is timeless. And that your brand, with all due respect, should be half as meaningful as hers.
Oprah provides women with hope and inspiration for reasons that are almost too familiar to bear repeating. Enron, Columbine, 9/11 and, now, Virginia Tech. In fact, for the last 20 years, she has filled a void in women's lives by being a catalyst and a role model.
She shares her personal story. She shares that she's been a rape victim. She breathes life into the possibilities of personal transformation.
Everything that Oprah Winfrey is about, that she applies to herself personally and to the people she talks to, is the idea that you can define your own life and make a difference.
Oprah has earned our trust by sharing her vulnerabilities, her deepest fears, frustrations and anxieties. She's genuine and worthy of trust. If that isn't a model for one of the greatest brands of all time, then I don't know what is.
Oprah is, indeed, a brand. A few brands are, in fact, showing signs of understanding her powers.
Dove is one of those brands. Surely you've seen Dove's latest campaign for its Pro-Age product that celebrates the beauty of growing older. The campaign brilliantly turns perceived vulnerabilities into authentic assets.
The brand recognizes that boomer women see middle age as a renewed beginning, not an ending, and that old age doesn't happen until age 79. If Dove sticks with it, the brand will continue to enjoy growth for a long time to come.
More recently, Kleenex has entered a similar space — an emotional space — that not only taps a psychological need, but actually even borrows Oprah's famous couch.
KLEENEX: LET IT OUT
Maybe you've seen this campaign, called "Let It Out," on television or online. A rather ordinary-looking man invites passers-by to join him on a bright-blue sofa that's sitting in the middle of a sidewalk in New York's Times Square.
As the videotape rolls, the man encourages his guests to talk about their lives and keeps probing until they start to cry with emotions of joy, sorrow or fear. Naturally, there's a box of Kleenex nearby and we are all reminded of those moments when we needed nothing so much as a Kleenex.
Cynics have criticized the campaign as contrived and too "corporate" to be credible. Greenpeace, the environmentalist group, actually has attempted to hijack the campaign by infiltrating it with decoys who cry about Kleenex's alleged destruction of ancient forests.
Critics and activists aside, Kleenex deserves credit for identifying a highly charged cultural context for an otherwise dull, commodity product. From within a cultural context, Kleenex is recognizing that we expect to be in control of our emotions, but that we also need relief from our anxieties and stress. Kleenex is now giving us permission to express our emotions — and is telling us that it's okay to do so, even in public.
Compare that strategy with that of Puffs, a key Kleenex competitor. Puffs is trying to get its edge the old-fashioned way — by emphasizing product features, like how much softer it is thanks to its lotions.
Puffs is all about its lotions; Kleenex is all about emotions. Which space would you rather own?
Early indications are that the new Kleenex campaign is paying off in greater sales. Like Dove, it's all a question of whether Kleenex has the stamina to stick with its strategy for the long haul. For inspiration, both Kleenex and Dove might turn to an unlikely brand — Corona beer.
CORONA: BOTTLED VACATIONS
Like Kleenex and Dove, Corona has made its success by staking out an emotional space that its competitors ignore.
For the most part, Corona's competitors project some combination of upscale imagery and girlie magazine sex appeal. Corona instead carved out an emotional space you might summarize as a "vacation in a bottle." Their premise is that, in today's busy world, what we need most is an escape from the ordinary.
The message is both emotional and very simple. When you think of Corona, what do you see? You see a bottle of beer planted in the sand. What do you think? You think you want to be in that place, and you can't get there with any other kind of beer. What do you imagine? You imagine how it feels when you squeeze that wedge of lime into the bottle and … ahhhhh! You're there. Transported.
You can tell I like Corona. But the point is, if you're like me, you see, think and feel those things because Corona, like Oprah, has been stoking certain imagery and specific emotions, consistently and authentically, for years and years. To be exact, Corona has not deviated from its strategy for sixteen years. That kind of strategic longevity is extremely rare in marketing.
Time will tell whether Dove and Kleenex will build on the emotional space they've created for as long as Corona has. One thing's for sure, they don't want to follow Cadillac's trajectory.
CADILLAC: THE PURSUIT
Cadillac used to be the icon of success. They owned that, and then they lost it. The good news is that with their new campaign, "Life. Liberty. And the Pursuit.," Cadillac is re-claiming it.
Cadillac's overall story was that it was totally engrained in American culture as not only the definition of success, but also the embodiment of the American dream. It was the symbol, back in the day, of having arrived.
All of that faded away when the cars themselves ceded their reputation for quality and design to foreign brands like BMW, Mercedes, Lexus and Infiniti. Cadillac spent years in the wilderness as a result.
But now, having repaired its quality and design problems, Cadillac is reasserting its most obvious competitive advantage: It is an American car. It's pretty hard for a car from Germany or Japan to take ownership of the emotional space otherwise known as the American spirit.
This isn't about flag-waving as much as it is about re-connecting with deeply held values that come straight out of the Declaration of Independence. Life — living it to its fullest. Liberty — freedom, individualism. Pursuit — anything is possible.
Cadillac's new strategy has special resonance with boomer women who are now in positions of power and authority, who take great pride in their hard-earned success, and who feel a sense of entitlement.
Cadillac understands that appeal, and has gone as far as to enlist fashion designer Dana Buchman to design a special edition just for women. Cadillac is now sitting pretty as a symbol of their accomplishments. You know, when Oprah gave away those hundreds of cars, they really should have been Cadillacs.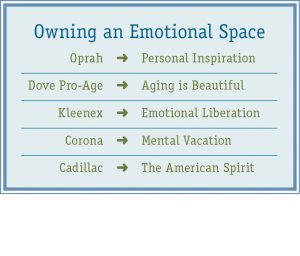 All of these brands — Dove, Kleenex, Corona and Cadillac — are poised for success because they are taking ownership of an emotional space. Kleenex stands out because it found an emotional context that wasn't terribly obvious.
Unlike these other brands, it does not have much potential as a "badge" product. But it managed to find emotional space all the same. So, if you think your brand lacks the ability to connect with your consumers on an emotional level, you need to aim higher. As Kleenex has demonstrated, it's up there somewhere.
NOT THERE YET
On the other hand, it's perplexing to see brands where emotional potential is obvious and yet it is not being developed.
Kohler, the family-owned bathroom-fixture company, is a great example. Kohler is 132 years old.
The company was founded with the promise to bring the best ideas, technology and craftsmanship to its products.
In addition, the Kohler family has always had passion for the arts, having long encouraged an ongoing partnership with the arts community by opening the doors of its pottery and iron foundry to internationally recognized artists.
That passion manifests itself not only in the artful design of Kohler's fixtures, but also its support of the arts in a variety of ways, including the creation of the Kohler Center for the Arts in Wisconsin. That's great as far as it goes, but it doesn't go far enough. It's just a little too "corporate" to connect emotionally with consumers.
The potential for Kohler is to open up the opportunity for consumers to share in and support Kohler's passion for art. Don't keep it a secret. Let consumers be a part of it. Turn it into a movement.
Tiffany's is a brand that almost lost its image of exclusivity by expanding its offering to include less expensive items for younger consumers. But the reality is that once a luxury brand becomes affordable to anyone, it's no longer a luxury. Happily, Tiffany's has found its way back, and its famous blue-box once again represents the ultimate in "luxury plus." Tiffany's is back to being the place for a man to buy a woman a gift. A gift of love.
Tiffany's could go even further, however, by becoming the place where women buy gifts for themselves. The opportunity is similar to the one Cadillac is pursuing: Female boomers have the money, have worked hard to get where they are, and are now at a place where they feel they deserve to acknowledge and reward themselves.
Just as the Cadillac woman will buy herself that car without necessarily checking in with her husband first, the Tiffany's woman is ready to buy that diamond, watch, scarf or handbag whether or not her significant other has anything to do with it. I'll betcha anything, that's how Oprah shops.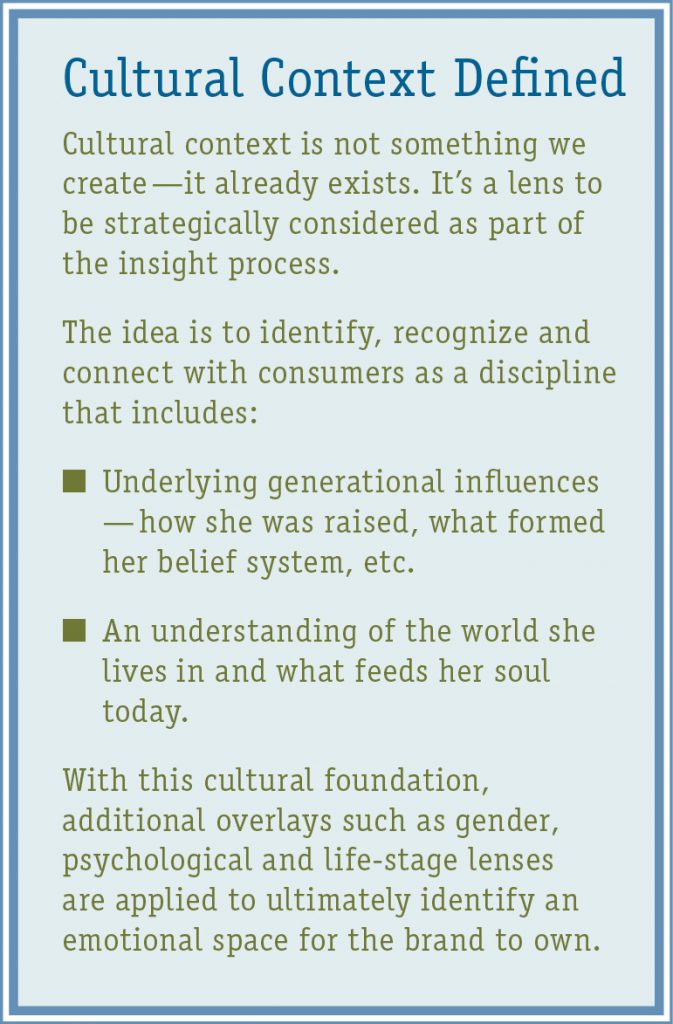 OWN AN EMOTIONAL SPACE
Defining your brand's emotional space in consumers' lives is a tremendous opportunity. To do that, your insight process must include studying the cultural context. That's something that is not given as much importance as it should.
You need to look at who you're targeting and the cultural context in which they grew up, which forms their beliefs, values and attitudes. It needs to be a deliberate process.
Too often, the insight discovery process ignores too much of the cultural context that frames our subconscious purchase motivations. Those powerful insight lenses usually are missing. But they are currently in place for Dove, Kleenex, Corona, Cadillac and others — and each of those brands is enjoying impressive growth as a result.
Learning how to connect gender and lifestage lenses with cultural context has elevated relatively ordinary brands to whole new levels of profound and sustainable market dominance.
So, if I told you that Oprah Winfrey personified the future of marketing, what would you do?
If I were you, I'd ask myself: What would Oprah do?
© 2007 WomanWise LLC.